The video is quick recap how Top 20 has grown and spread across the U.S.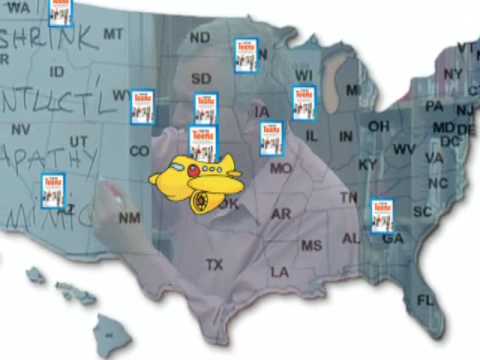 Many people are responsible for the creation of this Top 20 program. Throughout our lives, countless people young and old have shared their experiences, wisdom and life lessons with us. Because of this our lives have been greatly enriched. The quality of our relationships, our education, and our work have all been enhanced by what many people have shared with us. They have enabled us to have a great ride through life.
Besides trying to live the concepts presented in this Top 20 program ourselves, we have taught this material to over 2,000 students (and more than 1.000 of their parents) at Cretin-Derham Hall High School in St. Paul, Minnesota, in a course called Thinking, Learning and Communicating. The course has come to be known as TLC. The enthusiastic response of our students to this material encouraged us to "spread the word."
The development of the Top 20 program and the TLC course have involved the professional and personal journeys of five people.
Michael Cole's work with Emotional Intelligence began two decades ago. After a less-than-stellar academic career, Michael found himself floundering in the hair-styling business. His life changed dramatically when he met Joe Francis, who mentored Michael in the Emotional Intelligence field. He and his wife Mary developed some of these ideas through their highly successful business, Salon Development Corporation.
The Coles first met Tom Cody when their two children attended Cretin-Derham Hall High School. In 1996, the Coles approached the school administrators with hopes that their Emotional Intelligence ideas could be implemented at the high school level. At that time, Tom, a math teacher at CDH since 1980, was developing Jump Start, a pilot summer program for orienting incoming freshmen. The Coles' material was a perfect fit with Cody's practical study skills course. When the course outgrew the two-week summer program, it was introduced into the mainstream curriculum at CDH in 2000-2001 as a 12-week class called Thinking, Learning and Communicating.
Meanwhile, Tom and Paul Bernabei had previously crossed paths as girls' basketball coaches. Paul had been developing related concepts in his work as an educator and consultant. His work blended perfectly with that of the Coles and Tom. He joined the TLC team during its inaugural year.
In 2001, Willow Sweeney, a CDH social studies teacher, joined the team. She and Tom taught the classes on a daily basis while developing and testing the Top 20 Training curriculum.  Bernabei and the Coles served as guest lecturers and program developers.
Top 20 Training was founded by Paul Bernabei, Tom Cody, Mary Cole, Michael Cole, and Willow Sweeney in 2001. They have trained over 40,000 teachers, parents, coaches, professionals, and 10,000 students. They co-authored three books: Top 20 Teens: The Best-kept Thinking, Learning and Communicating Secrets of Successful Teenagers; Top 20 Parents: Raising Happy, Responsible and Emotionally Healthy Children; and Top 20 Teachers: The Revolution in American Education  
The Top 20 curriculum is currently being used in hundreds of schools, corporations and organizations across the nation.
Timeline:  Key events in the history of Top 20 Training
1997: Michael Cole is introduced to Tom Cody at Cretin-Derham Hall High School
1998: Jump Start summer program is introduced at Crein-Derham Hall
2000 – 2002: Thinking, Learning and Communicating (TLC) class begins with 108 students and grows to 260 in 3rd year.  Mary Cole and Tom Cody co-teach first class; Paul Bernabei and Michael serve as guest lecturers; Willow Sweeney joins the 2nd year.
2001: First Teacher Training and Parents Training
2002: Publication of Top 20 Teens: The Best-kept Thinking, Learning and Communicating Secrets of Successful Teenagers
2003: Teacher Manual for grades 7-12 is released;  first national appearance at National Catholic Education Association conference in Boston
2004: Over 1000 teachers trained are trained from Idaho to Boston
2005:  Second publication of Top 20 Teens; Grade 3-6 teacher manual published
2006:  Top 20 Promotional video is produced
2007:   First Coaches Training
2008:  Third publication of Top 20 Teens
2009:   Over 30,000 teachers trained since 2005
            Publication of Top 20 Parents: Raising Happy, Responsible and Emotionally         Healthy Chidren (January)
            Publication of Top 20 Teachers: The Revolution in American Education (August)
            Presentation at first international education conference in Madrid, Spain